You received a statement via email. Follow the simple steps below to make a payment:
Click on "View and Pay Statement" in the email.
Sign in to Viewpost
Click Pay Now or Add Payment Method (this will allow you to schedule a later payment date)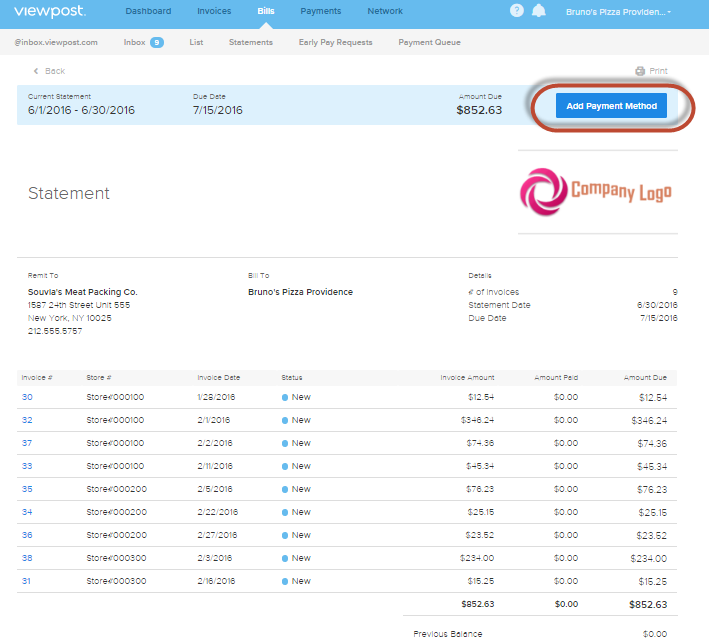 All invoices are sorted by Store# and then invoice date.
Any previous unpaid balances will be included.
You can always find your statements of open bills separated by month, located here. You can opt to print the statements before paying them. (See attached example PDF)
Statements will appear until they have been paid.

Clicking 'Pay Now' will take you to the payment queue. Select the date you wish to send payment, if different than today, and click 'Continue'.
Select the bank account you wish to pay from and click 'Submit Payment or Pay Now'.

Your payment is on the way!
View payments you have sent under the Payments Tab.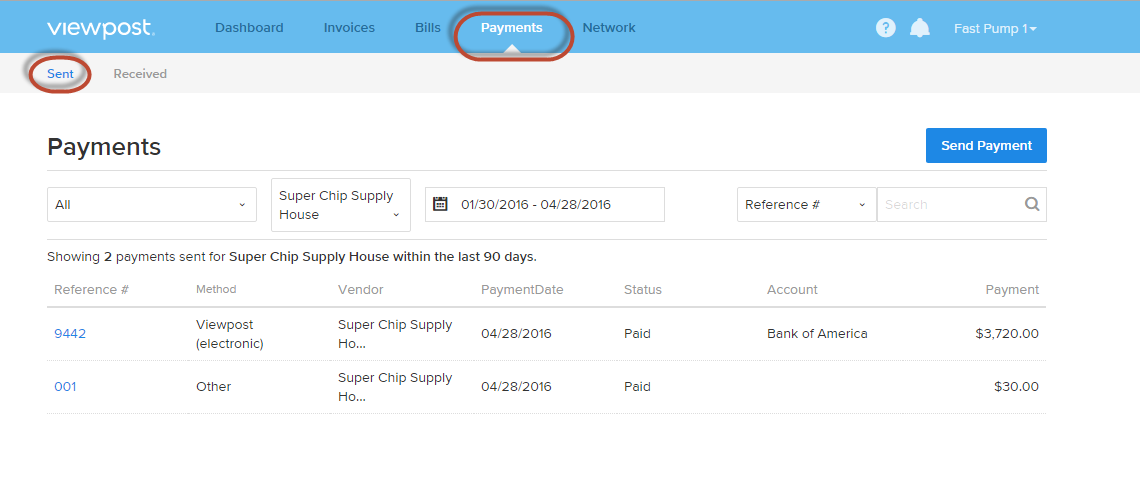 It is that easy!
*CM-Credit Memos get selected with all other bills. The negative amount will offset the total due. The credit memos must be selected with invoices that are a higher dollar amount then the discount. You will not be able to select only the credit memos or pay a negative total dollar amount.
Not yet registered for Viewpost? Follow the short steps below:
1) Register using your legal company name.
*If you have multiple companies, you will need to create separate Viewpost accounts, connect to the businesses you transact with, register corresponding bank accounts, receive and pay bills as separate entities.(This feature is available under your company menu as Switch Companies.)
2) Make sure you are connected to the company you want to pay.
You may verify this two ways:
You see bills on your statement in the queue.
Go to the Network Tab and verify the company is listed as 'Connected'

If it does not say 'Connected' use the search box to find the company. Select 'I pay this company'.

3) Register a bank account. If you did not register a bank account during initial registration you may register one by
Selecting your company name (from the upper right hand corner menu).
Select Payment Methods
Add Checking Account.
*Credit card payments are at the discretion of the customer. Credit cards fees are assessed to the recipient of the payment. If your customer is enrolled in Stripe to receive credit card payments you will see that as a payment method option in the payment queue.

4) Once your bank account is verified, go to the Bills tab to pay your bills. Check the boxes on the left hand side that correspond to the bills you wish to pay. If you want to select all bills, select the check box at the top. 'Approve and Pay' the bills.
Please let us know if you have any questions.