When you register your bank account on Viewpost, we want you to know it is safe, so we require secondary security measures.
You can choose from:
Security Questions- 3 in Total (Who was your favorite third grade teacher?) 
Two-Step Verification (A one use code sent to the cell phone number registered each time you log in)
 If you want to disable one, you need to enable the other first. 
Both options are available during registration or on Personal Settings at any time.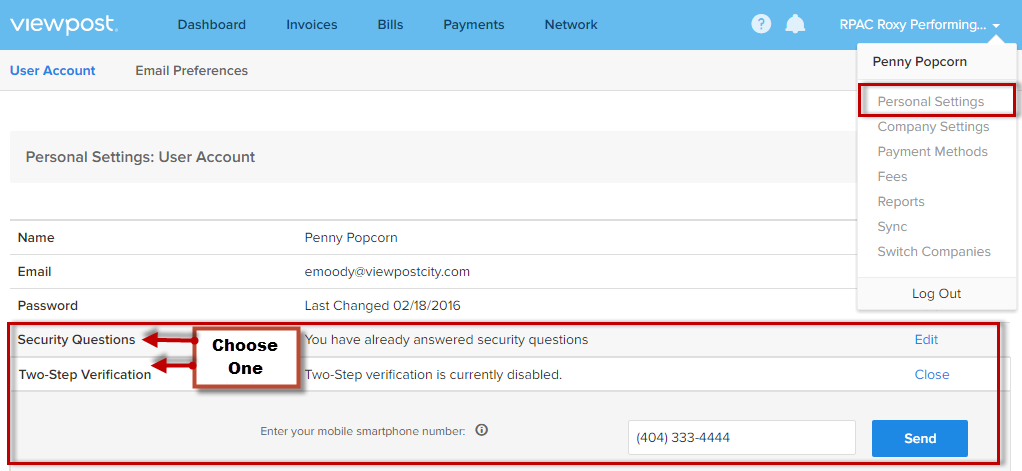 With two-step verification you increase security by requiring something that you know (username and password) and something that you have (your mobile phone) whenever you login from a new device.
How does it work? 
Sign in: After entering your username and password, a code will be sent via text message to the mobile phone you entered when you registered.

Keep it simple: You can choose to enter the code once per computer, or every time you sign in. *A message will appear at sign in where you can select, "Don't ask me again on this device." Each code is one time use, and not valid for subsequent log ins. 

Account security: We'll ask you to enter a code when you (or anyone else) tries to sign in to your account from another computer or location.

What if I don't have my phone or the code isn't arriving? Contact Customer Support so we can send it to the email you have on file.