Most common fees on Viewpost are for payments. 
Sending Electronic Payments (including discounting, and returned payments) 
Sending Paper Checks
Receiving Consumer Payments
Receiving Credit Card Payments (via Stripe) 
When sending an invoice, you don't yet have the option to incur the fees for your customers, but we are building that. 
When paying an invoice, the fee is visible while making the payment. 
Viewpost sends out fee invoices at the beginning of the month for the month prior. 
These fees are auto paid out of the bank account you registered on Viewpost. 
Your Viewpost fees are always visible here: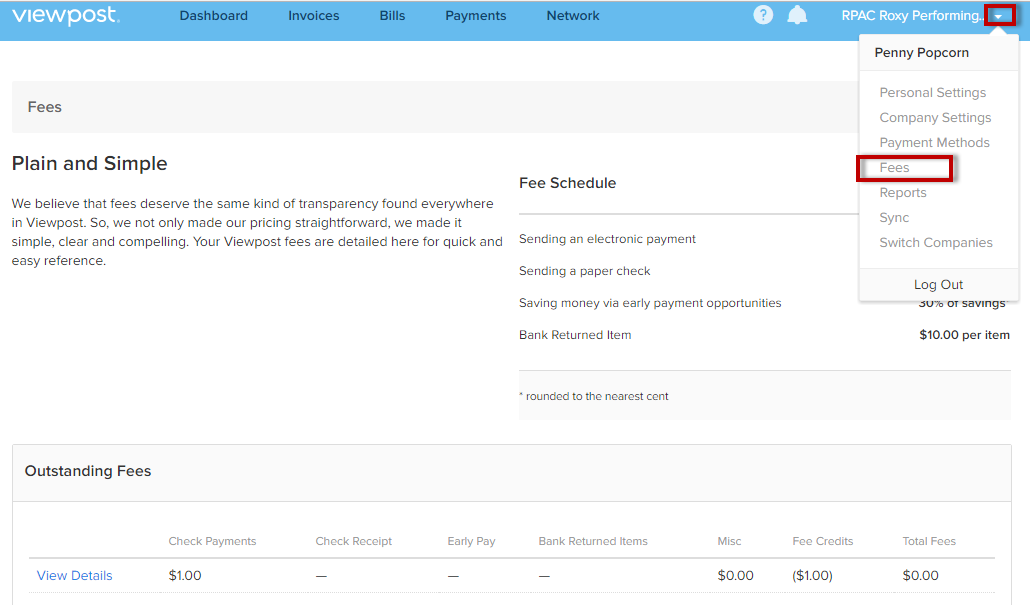 If payment of your Viewpost fees was not successful you will receive an email notifying you. 
This could happen for a variety of reasons:
The bank account you have registered on Viewpost has been changed or closed
Insufficient Funds
Reconciliation of Positive Pay Files
Viewpost Support is more than happy to help you update the bank account information you have registered.
To resolve this issue and pay your Viewpost fees, please follow the short steps below:
Verify with your bank that the funds did not leave your account
Log in to Viewpost and navigate to Payments>Sent.
Locate the fee payment to Viewpost North America and 'Void' the payment
This will reopen the fee invoice. Navigate to the Bills tab, select the bill and 'Schedule payment'.
Click here for our Pricing Page. 
*A payment can appear successfully sent on Viewpost and still not process correctly from the bank.
*Viewpost does not retry payments automatically when account information is updated. You must manually resend.
*Viewpost does not reimburse any fees associated with payment returns.
*Non-payment of fees can result in suspension of Viewpost payment services.