Two things need to be in place to exchange electronic payments on Viewpost.
Both parties need to be bank account registered
Need to be connected to each other (via The Network Tab) 
Connecting is an extra layer of affirmation that all of your transactions are being delivered to the intended recipient.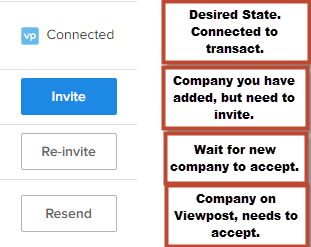 To connect:
Go to the Network Tab 
Check Connection Requests to see if you have any pending connection requests to accept.

Nothing there? That's okay.

If you know the company is on Viewpost, select Find Companies to find and send a request to the company you want to connect with. 
If there is no match, or you are sure the company is new to Viewpost, select Add New Company to send an invitation to the business you wish to connect with. 
To delete or disconnect
Go to Network Tab
Click on the Company Name
Click on the three dots on the far right
Click on Delete