Best way to send a first time electronic payment
Register for Viewpost, including your bank account

Invite the company/contractor you wish to pay (via Network Tab)

They set up their bank account

Send the payment (Some banks receive payments same day, some take approximately five business days. See details below) going forward, all payments will be sent at the same time frame as the first.

If you were invited to Viewpost via Enterprise Sales, you may have accounting integrations, file specifics, and alternate payment types available.
See the Payment Methods below, and follow the steps to enable the capability.
Payment Methods

Payor Register

Payee Register

Approximate Timeline

Paper Check

Yes

No

5 business days via USPS

Standard Electronic (ACH)

Yes

Yes

5 business days

Expedited Electronic (ICL)

Yes

Yes

1 business day

Credit Card

No

Yes

1st - 10 business days

2nd - 3 business days

Virtual Credit Card

Yes

No

Immediately.
To Send Payment:
Register a bank account, most domestic bank accounts.
There are two ways to register a bank account:
Log in and Link: There are logos and a search box of banks that allow you to instantly connect your account by entering your log in credentials for your online banking.

Manually: Registering your routing and account manually with a 1-2 day registration time. Viewpost sends your bank two small deposits. When you get the deposits, you log in to Viewpost to verify them. After verification, you will have the same payment capabilities.
How can you tell if the company you are paying is set up properly?
Navigate to the Network Tab. Look for VP Connected and Electronic Payment.
If you are an Enterprise client paying via Virtual Card, our Enrollment team will reach out to your vendor during the first payment cycle.
When you submit a payment, there will be messaging that this payment will go electronically, or paper check, along with estimated deliver by date. 'Sending' a payment will send it.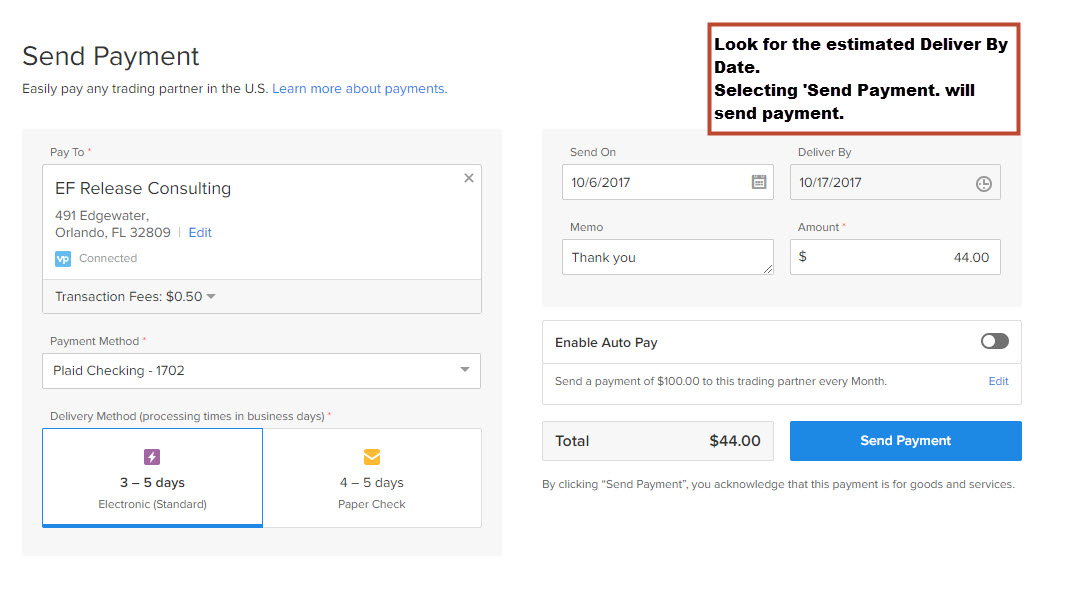 To send a partial payment: Change the amount listed under the amount you would like to pay. This will show the invoice is partially paid and you can make future payments to close out the invoice.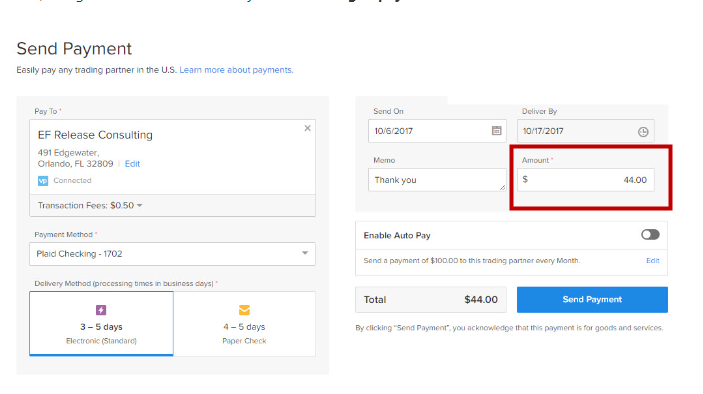 When will the funds leave your account?
Electronic Payments- Shortly after submitting the payment. Bank processing times do vary, and payment timelines are dependent on the recipient's bank. So funds may leave your account, though they are not instantaneously deposited in the recipient's account.

Paper Checks- After the company receives the payment, and deposits the check. Usually 7-10 days.
When will the funds arrive?
Standard payment processing can vary between 1-7 business days.

Payment processing times rely on the recipient's bank account.

Does it matter who the recipient banks with? YES. Absolutely.
Certain banks offer a process called ICL, which stands for Image Cash Letter.
Image Cash Letter service is an electronic payment process offered by certain banks, on business bank accounts that processes payments within one business day.
Which banks offer Image Cash Letter to business bank accounts?
Bank of America

U.S. Bank

Regions

Truist formerly known as BB&T
To see if the account is optimized for this service, the recipient should log in to Viewpost, and look at the bank account to see if it says ICL Enabled. This is not a feature they or you can request. Viewpost is integrating with new banks all the time. If the bank is not ICL Enabled, it may be in the future.
Click here for payment processing timelines.
Didn't mean to send a payment?
Contact your bank immediately to stop payment

Contact us

**Voiding a payment on Viewpost voids the record only and DOES NOT stop processing.**