What is a virtual card?
This is a one-time use card which will either be Visa or Mastercard.

Once you sign up for Viewpost you will receive a welcome email that includes the 6-digit prefix.

The remaining 10 digits will be sent to you within a few business days.

All future card remittances sent will include 6x's for the prefix and the last 10 digits of the credit card to charge.
If you have misplaced the 6-digit prefix, please click on 'Need your 6-digit prefix?' on your payment remittance email under the card number and the 6-digit prefix will be emailed to you for your records.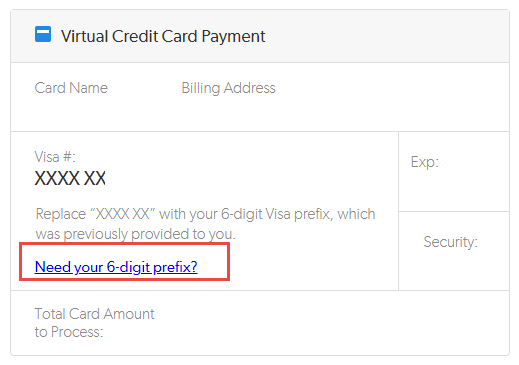 Who is Viewpost as you were not notified by your customer, they will be using a new payment service.
We can verify an invoice number and the amount.
You can reach out to your customer directly through your trusted contact to confirm.
What is this payment for?
We don't specifically know what these payments are for, however we have an invoice number that might be helpful to use as a reference.
Hospital payments: It is unclear what the payments are for; invoice has no info just has dates, we don't have any bills or an invoice, we just get the payment info and electronic file from your customer.
Please reach out to your customer with the invoice number if you need additional information for what the invoice is paying.
The invoice numbers do not match up:
We have limited information from the customer. Please contact your customer to receive an invoice copy.
We have been directed by your customer to send this invoice for the specific amount. If any discrepancies, please contact your customer.
Address does not match up or need to change your address:
We use the address to help us verify your account, however, if I provided you with an invoice number, could you provide me with the amount for that invoice.
Please reach out to your customer to change your address for sending checks.
Invoice has already been paid:
Your customer directed us to make payments to you either via paper check or Virtual Credit Card we do not have the ability to cancel this payment. Do you take overpayments?"
If not, then you will receive a paper check and you can reach out to your customer to discuss further.
Currently already set up for ACH payments if applicable:
If you work with multiple customers that use Viewpost some may not offer ACH payments. If they do, they may also charge a fee for the ACH option.
The amount of the payment/ invoice does not match:
The customer submitted the payment to us for this amount. Please contact them for any over payments.
Your company requires an authorization form
We can provide you an email which states who Viewpost is and the company we process the payments to your company. Is there anything you require that isn't included in the email?
Payment Portals
If you accept payments through a payment portal

Please advise if we need a log-in, if not please let us know what is needed to make the payment.
If you have past due payment issues
Please contact your customer directly if you have any issues with past due invoices.