When payments sync to Viewpost there are some instances when a transaction may fail to send.  When this occurs, the issue causing the failure needs to be identified, corrected in QuickBooks Online, and then you can sync the payment again.
1. Determine reason for failure.  There are two paths to find the reason the payment failed.
Email - When a payment fails to sync, you will be notified by email. The title of the email is [Failure] # of your Viewpost payments could not be processed, # is the number of payments that did not sync. The email lists the payment(s) and the errors that need to be corrected.  Also included is a button to go to Sync History on Viewpost.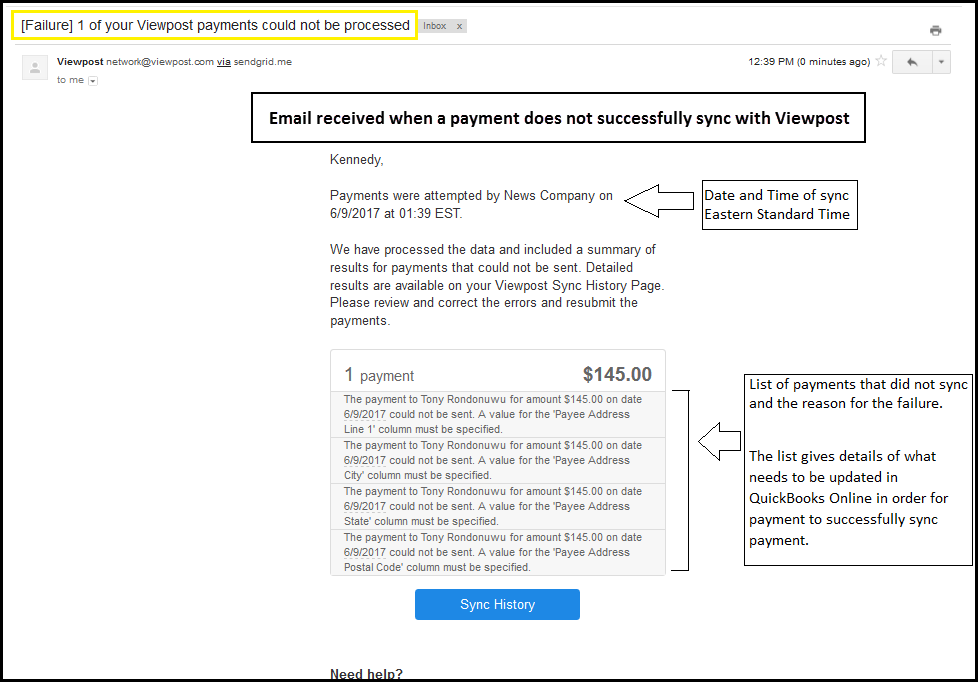 Sync History -  To arrive at sync history click the Sync History button in the failure email, or on Viewpost click Sync in header then the Sync History tab. Click Payments to expand the section and locate the batch with a status of Synced with Issues.  The number of payments and amount of failures will be listed in the status column.  Download csv file, by click the download text, and review the Message column, to get details of the errors that need to be corrected. More info on Sync History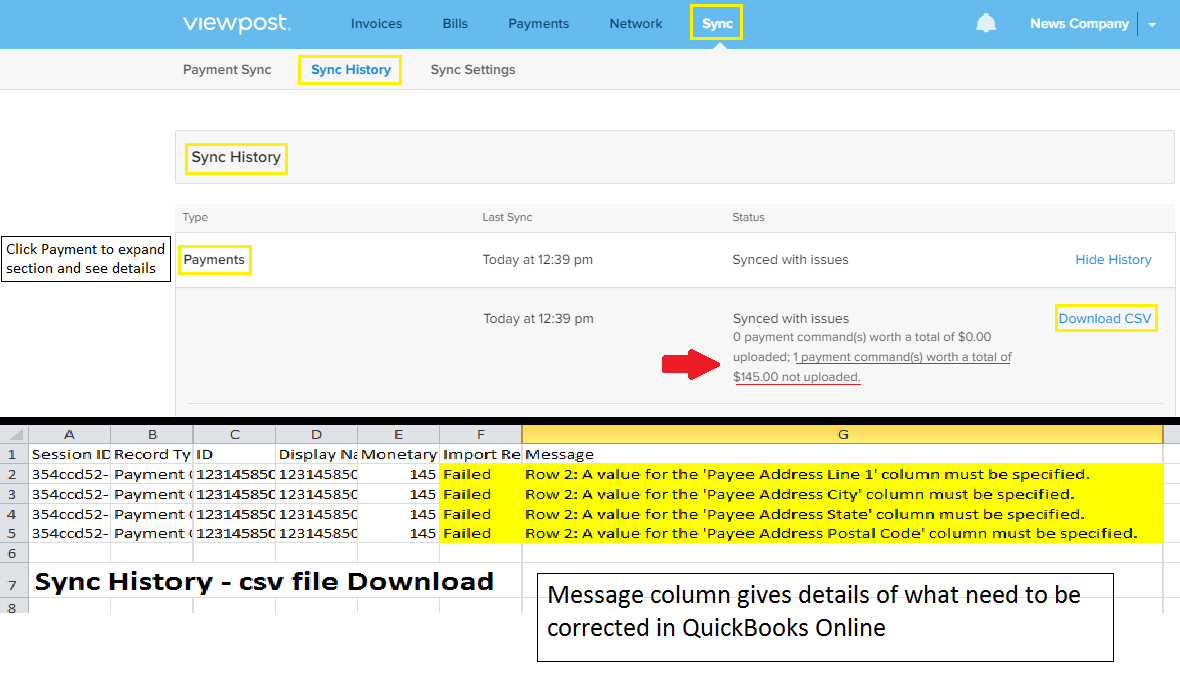 2. Go to QuickBooks Online and correct the errors identified in Step 1.
There are multiple reasons a transaction can fail to sync.  The correction can be made to the Vendor record, the bill, or the payment transaction.  Some helpful notes on how to correct the issue in QuickBooks Online are below.
Failures due to missing all or part of vendor Payee Address - This issues can be corrected two ways.
Update the Vendor record - Edit the vendor record and enter the missing address information and click save. This will update all outstanding payment transaction and prevent you from having to enter an address on payment transactions in the future. This is the Recommended Method.
Update the payment transaction - Go to Payment screen and enter the missing address data in the mailing address field.  This will update the current transaction only.
Failure due to missing Payable Invoice Number - In QuickBooks Online, go to the Bill(s) associated with the payment and add the missing invoice number.  Click Save and Yes on error message notifying you that other transactions could be effected.  Updating the bill will update the payment transaction.  
3. Sync payment again.  After you make the necessary changes in QuickBooks Online the payment can be processed again, either in confirmation mode or auto-send, depending on each vendor's settings.  More information on syncing payment can be found here Send Payments from QuickBooks Online to Viewpost