Auto-Sync is a process to update your Viewpost and QuickBooks Desktop records for transactions that affect the balances for invoices, bills and payments.  The process removes the requirement for live interaction with selections, linking and results by automatically syncing transactions at a time set by the user.  The default time is 12:00 AM midnight, but can be modified by the user in the sync agent settings.
IN ORDER FOR THE AUTO-SYNC TO OCCUR, THE FOLLOWING STEPS MUST BE FOLLOWED:
THE COMPUTER MUST BE TURNED ON AND NOT IN HIBERNATION MODE
YOU MUST BE SIGNED IN TO THE SYNC AGENT
The following transactions are enabled for auto-synced by default.
Customer Payment Receipts from QuickBooks to Viewpost
Customer Payment Receipts from Viewpost to QuickBooks
Bills From Viewpost to QuickBooks
Payments from Viewpost to QuickBooks
Non-Viewpost Bill Payments from QuickBooks to Viewpost.
You can modify which transactions you want to auto-sync by going to the "Set Auto Sync" section of the Viewpost Sync Agent Settings.  Just uncheck the box to the right of the transaction type to disable the auto-sync.  You can also modify the time at which the Auto-Sync will occur.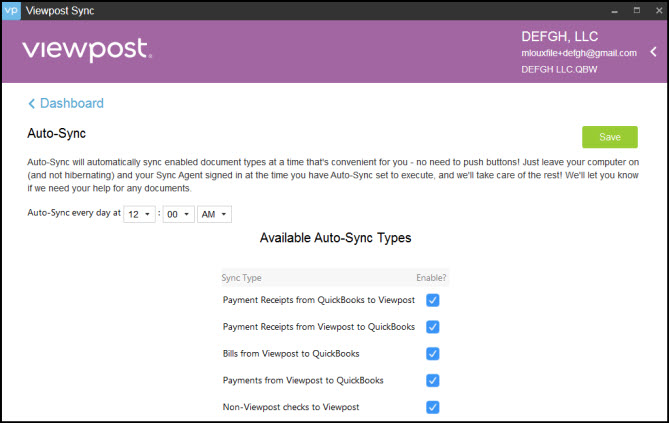 You can also initiate the Auto-Sync process manually from the Sync Agent Dashboard.  You will not be able to work in QuickBooks while the auto-sync process is running.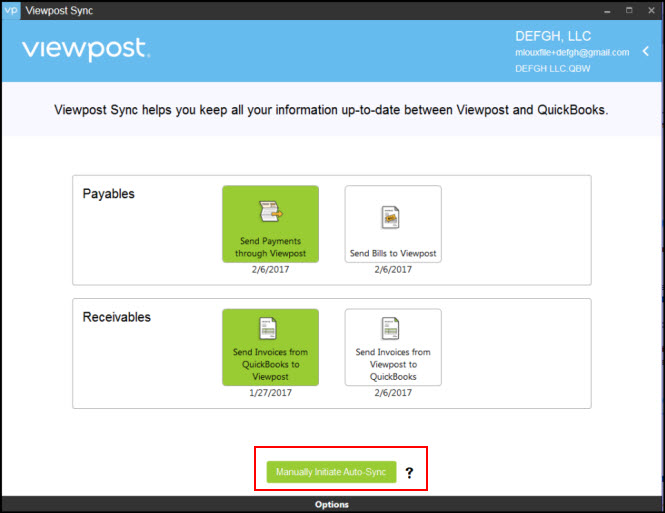 After the completion of the Auto-Sync process, you will be presented with a screen of results and a list of unsuccessful records for you to review.